About Dr. Neal Smoller
Holistic Pharmacist & Big Mouth
Why I Do It All…
We'll get to all the professional stuff I've done, but first and foremost I'm a husband and father.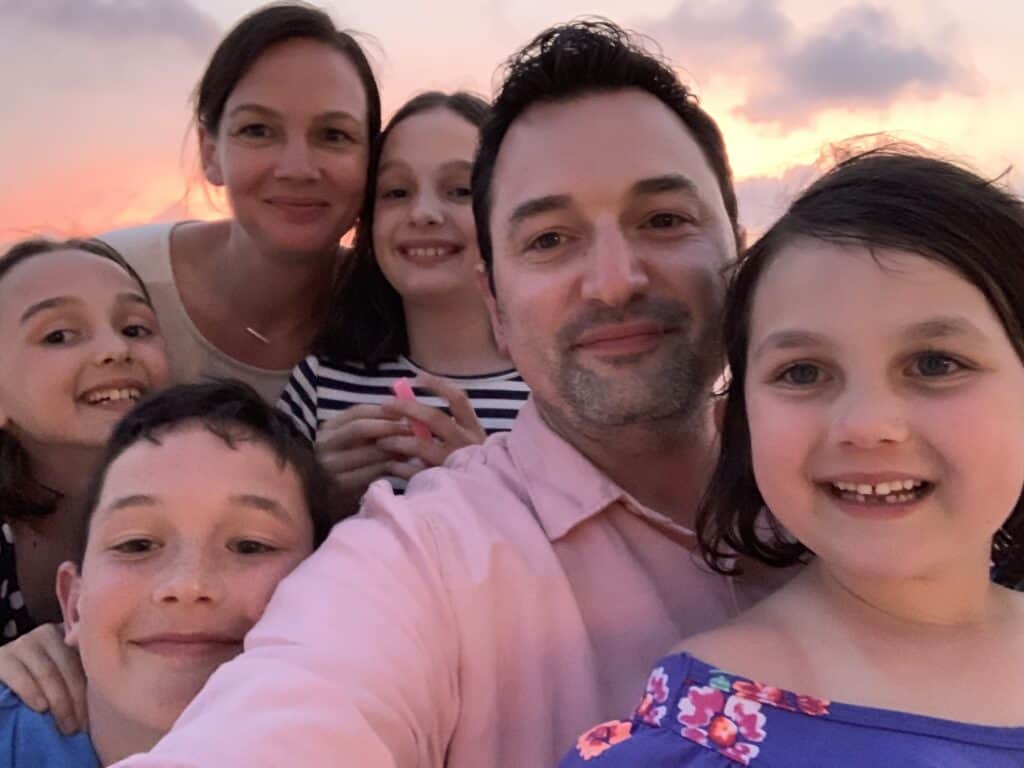 Somehow I was able to convince an amazing pharmacist-to-be to be my bride-to-be. Erin is a talented, patient, kind, beautiful, funny, and smart woman. She is 100% the reason I'm constantly striving to be a better me. I've always been a Big Mouth, but now I use it to teach and entertain, trying like crazy not to let it get me in trouble.
As if I wasn't lucky enough, Erin and I had triplets. Yes, three babies at the same time, houseful-of-crazy, diapers-everywhere, and every-piece-of-furniture-and-every-wall-ruined triplets. Ava, Rowan, and Liv are now ten years old.
We evened out the count to four children because why not, right? Arya is our six-year-old blessing who made our family complete.
Neal's Story
I graduated from Albany College of Pharmacy in 2004 with a PharmD, which is a doctorate degree. Just call me Neal though—I prefer it.
I like to say I was born to be a pharmacist. I started working at the local independent, Beadle's Pharmacy in my hometown of Saugerties, NY (yes, same as Jimmy Fallon; no, he's older) when I was fourteen. Just like many of us exposed to independent pharmacy, I fell in love with the atmosphere and the profession.
After graduation, I worked a number of positions as a pharmacist:
Consultant Pharmacist—reviewing medications of nursing home residents
Hospital Pharmacist—making IVs and reviewing med orders for our most vulnerable
Chain Pharmacist—working the grind for the Big Guys
But my heart has always been with the Independent Pharmacists, one of which I've been since 2006, when I opened my first practice, Village Apothecary.
In Village Apothecary, we returned the level of care to the old-fashioned standards, when pharmacists ruled as the most trusted profession.
I launched one of New York's first nationally accredited compounding pharmacies, where we would make medications from scratch. It's here where my, uh, "love" for SOPs, compliance, and most important, quality controls was born.
In 2010, I opened what I called an "integrative" pharmacy in the most famous small town in America —Woodstock, NY.
Here, we made holistic care the first priority. We tested the "middle path" model, offering patients the best of both worlds—natural products AND medicine.
I opened two more locations. In 2013, I opened a supplement-only store called Village Vitality. In 2015, I opened what I thought of as "the kitchen sink"—a pharmacy, compounding center, natural products, and medical equipment business and education center.
After some downs and fewer ups, I decided to dial it all down and focus on my passion—holistic care. I kept my Woodstock pharmacy and supplement store and started my ecommerce business, Woodstock Vitamins.
Now, I hope to educate other like-minded individuals on how to build a sustainable wellness practice with Supplement School.
My first efforts are geared toward fellow pharmacists; our industry is collapsing and we need a new model. I believe holistic care, done with integrity, is where we healthcare professionals, especially independent pharmacists, can lead.
I will teach pharmacists how to change the paradigm from selling an over-regulated commodity (prescriptions) to becoming an authority who is paid for our knowledge, ability, and expertise.
That brief version doesn't do it justice. I'm also a lot of things to many people…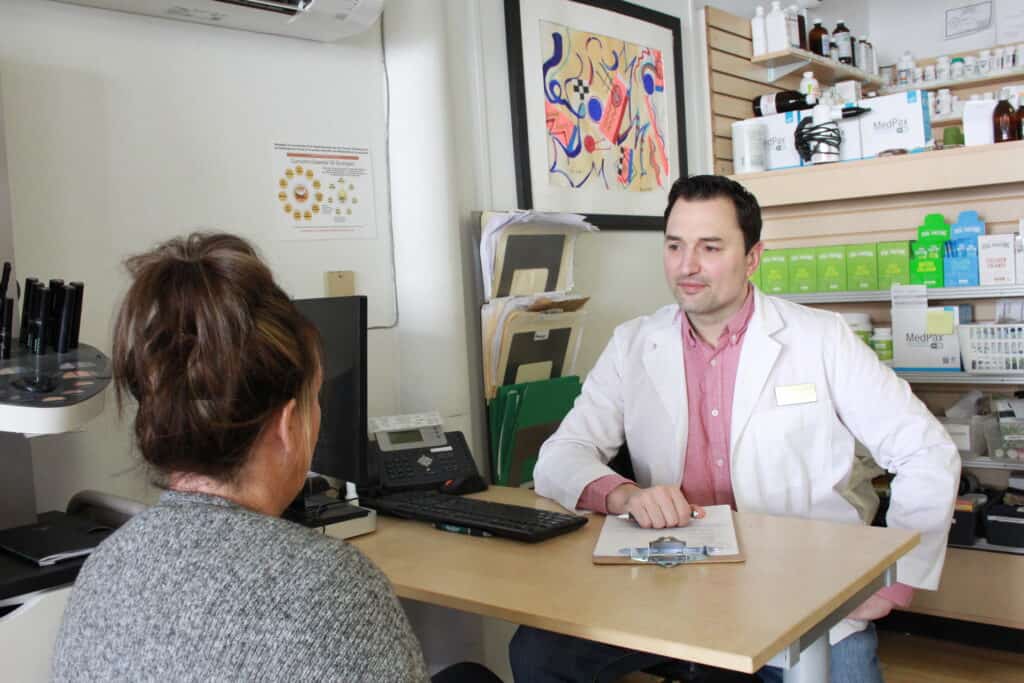 I'm a Holistic Pharmacist.
My goal is not to push drugs. It's quite the opposite.
I hope to help people use fewer medications and to use them correctly. More importantly, I want to help people prevent and manage their ailments using diet, stress management, better sleep, exercise, and yes, supplements.
We can only live our best lives if we live in a truly holistic manner: balancing healthy lifestyle choices, well-made supplements used strategically, and traditional medical interventions.
In an era when we see the resurgence of "snake oil" salesmen, I believe we need more people committed to providing holistic care and supplements responsibly. We need to take the lead, calling out the misinformation put forth by those I refer to as "charlatans," and educating the public on the supplements and life changes that can really make a difference.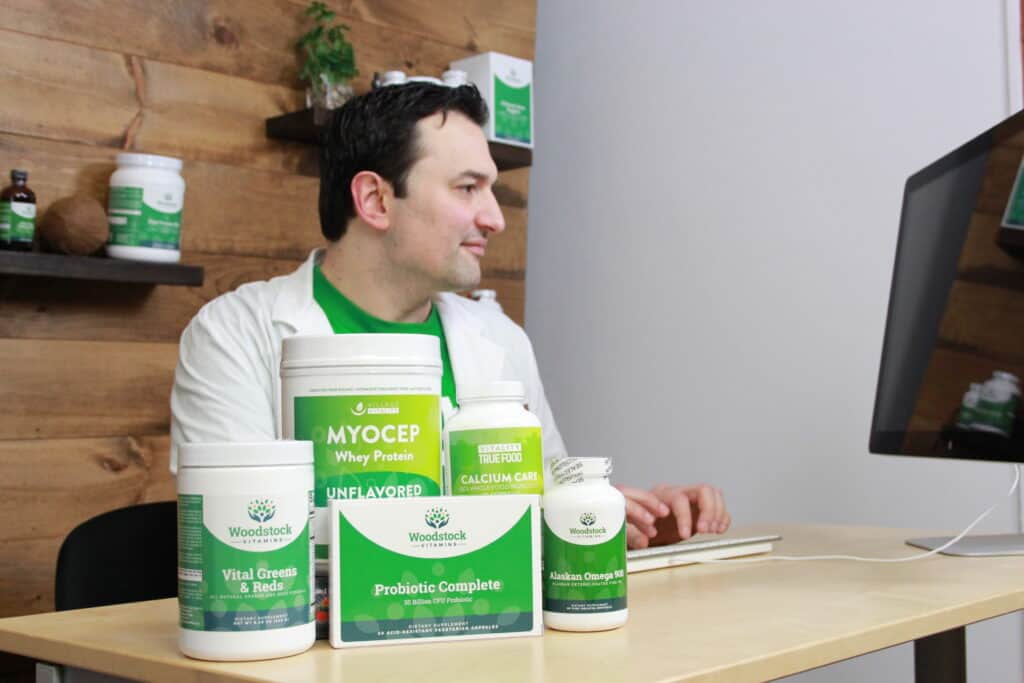 I'm a Supplement Expert.
Supplements have a place, but as you'll hear me say over and over again, the industry itself is broken.
If you take a pharmacist who specializes in medication management, has extensive experience with federal compliance, and has a love for holistic care, what do you get?
One confused pro. Why? Because anyone who starts asking tough questions of supplements and manufacturers quickly finds that the industry is a mess.
I've made it my mission to not only know about the therapeutics of supplements—how and if they work—but to be clear about the lack of quality standards surrounding them as well.
Whether you are a customer or advisor, the volume of options and information has become overwhelming these days. As a result, I've created research systems and product databases that we continuously review with industry leaders, aggregating the best information into a single source: my Big Mouth.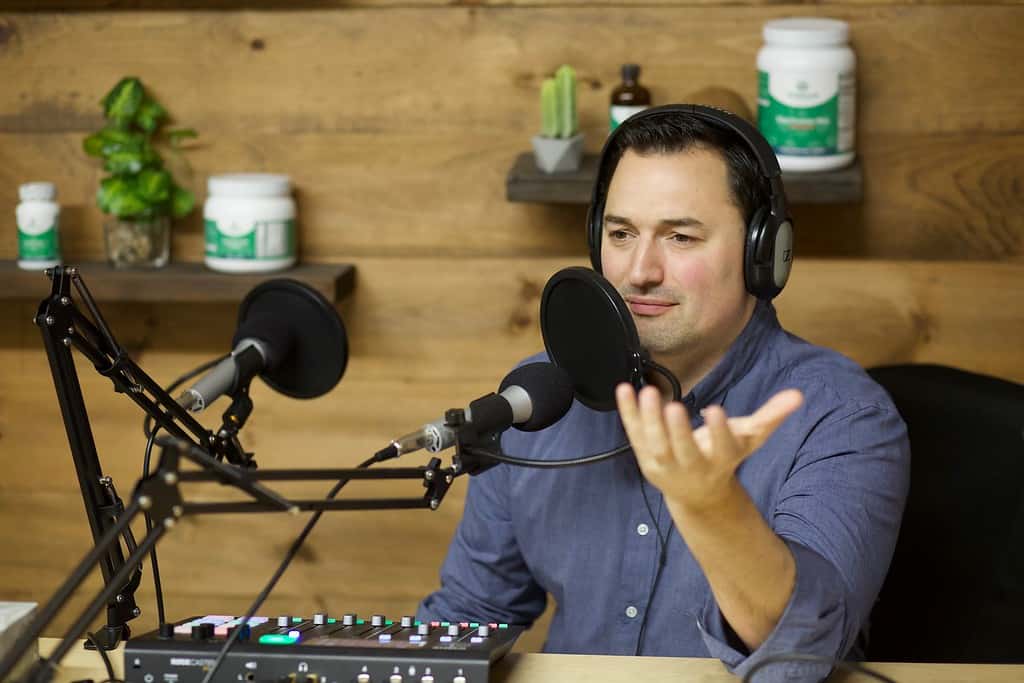 I'm a Big Mouth.
I have a propensity for saying what's on my mind. As I've gotten older, it happens less compulsively. Or at least I tell myself that.
I decided a few years back to own my sarcasm. My unique style of communication.
I think it's needed, especially in the wellness space. If you pay attention, everyone pretty much sounds the same. They're all saying nothing, really. "Oh wow, turmeric helps with inflammation. Ya don't say!" But, what does this "expert" mean when they say "inflammation"? Can turmeric even make a dent in that problem? Is the product most people buy even really turmeric? Those are the types of questions I ask.
It's in my nature to challenge the status quo. And I believe that the wellness space needs such a voice, someone who can both advocate for the industry and is also not afraid to call out its discrepancies and weak points.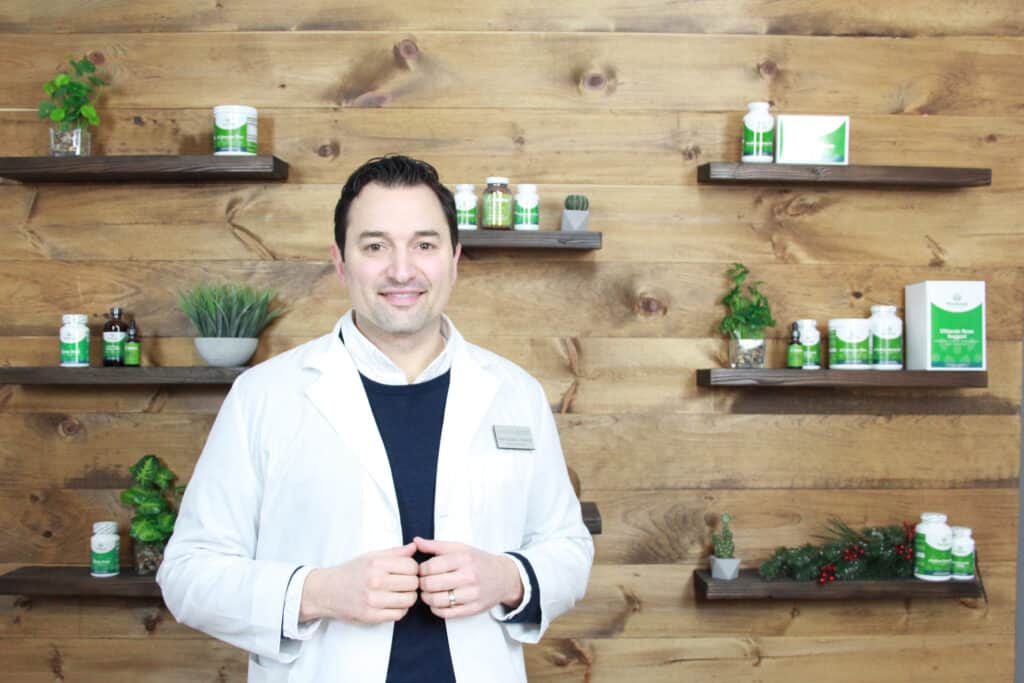 I'm a Business Leader.
I've done lots of great things in business. I've owned four locations, three of which were "integrative" pharmacies and one a stand-alone vitamin store called Village Vitality. I've also launched a successful e-commerce business, Woodstock Vitamins.
My greatest feat, though, is perseverance despite failure.
I've failed. Hard. It's cost me time, energy, and money I'll never get back.
My industry changed. I expanded at the wrong time in the life cycle of pharmacy. I didn't dedicate enough resources to a marketing engine. The big problem? I was a poor leader who hired the wrong people and mismanaged the great employees.
I called that dark time my "two million-dollar personality change." I bet you'll never guess how it got that name! From what people tell me, I turned my ship around correctly. Thankfully.
Because of these failures, I've gained some valuable wisdom that I use to mentor other business businesspeople in all sectors. I'm taking this wisdom to my Supplement School, where we'll talk about how to avoid the mistakes of my past while grasping the opportunities of the present and future.
My greatest business lesson is about the role of the entrepreneur. You see, I thought the role of the entrepreneur was to take the risk. Spend the money, take the leap, get stuff done. However, I've come to discover that the real role is to take the kicks to the face that WILL come in business. And when those kicks knock you down, the real entrepreneurs get right back up and keep moving forward.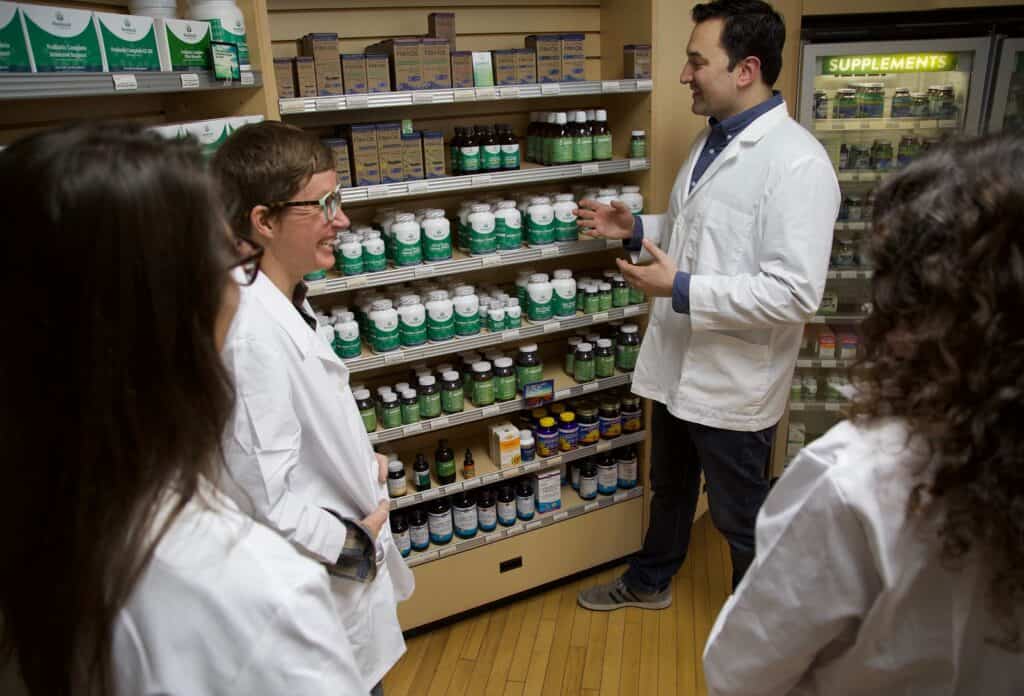 I'm a Teacher.
Before I was a licensed pharmacist, I was a pharmacy school graduate teaching Pharmacology as an adjunct professor.
Truth be told, it was my favorite job ever.
The thing that attracted me so much to pharmacy was the aspect of education. I watched my mentors, so filled with knowledge, spend most of their day teaching people about their medicine, diseases, and over-the-counter products.
I'm at my best when I'm educating, especially when I can do it in my own way. Puns and all.
I'm most excited about Supplement School, the next level of my business and my professional career.
Using my unique expertise to mentor other business leaders and professionals in how to provide holistic care with integrity is, without hyperbole, my dream.
How Can I Help You?
I want to use this unique set of skills to help you. Learn more about how I can help by exploring my method for true holistic care, the Holistic Standard.
Patients
Get a FREE 15-minute wellness consultation to develop a holistic care program. We can talk about nutrition, sleep, stress, or any problem, really. I can give you feedback on your supplement regimen. Or you can just pick my brain
Practitioners
Learn the Holistic Standard, our model for holistic care, and become a Certified Holistic Standard Practitioner via Supplement School. Sign up for First Class to get started building a wellness practice with integrity at the foundation.