I know it's that time of the year to do a recap, but doesn't it feel a little weird to do so?
It's been the longest March in history. Our lives have been upended. We've suffered greatly.
But, there is still hope.
We have light at the end of the tunnel, and soon, we'll move towards a better day. By Labor Day 2021, I believe COVID will be a memory.
In the meantime, I vote that we all get to subtract 1 year from our age.
Most of us were lucky enough to escape major devastation, and as such, I hope that perspective serves you well as you do your own recap of 2020. I know that many folks grabbed onto some silver linings, and that's a beautiful way to Cope with COVID.
In our house, I got to spend more time with the kids, despite spending more hours at work than any stinkin' year past (and that's saying a lot!). We were able to slow down, focus on what was important, and spend some more quality time together.
Locally, I was happy to be someone to help guide people through the chaos. I think our work helped to save at least a handful of lives.
But here's some sound advice that I want everyone to see: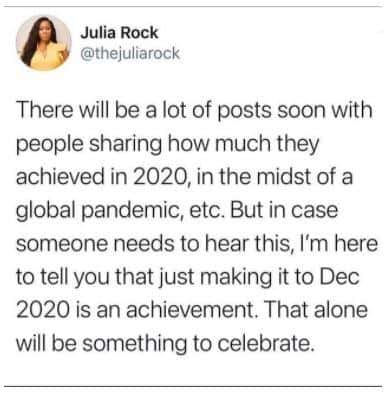 The Goal Recap
Every year, I lay out my strategy for the upcoming months. We did pretty decently, considering how screwy everything got.
I personally am feeling a clarity around my professional mission that I haven't ever felt, despite not checking off all of the boxes I set pre-pandemic.
The take home message here: we made some plans, they didn't work out. That may be the case for you, so don't beat yourself up. Just set new intentions and get curious to see what unfolds.
Because no matter what you want, life will happily throw curve balls along the way.
The Best Articles of 2020
As COVID ravaged us, it became pretty much the only thing we talked about.
Every single top-ten article this year was COVID-related, each being viewed thousands and thousands of times.
Here are a few of my personal favorites:
There's a lot swirling in my head. Frustration, disgust, anger, fatigue. Mostly it's grief. I'm grieving the recently and soon-to-be dead doctors, nurses, and citizens of New York City and elsewhere. I'm grieving because the pain and the deaths are unnecessary, especially in 2020
Vitamin D is in the media once more. There's been a release of some "papers" connecting Vitamin D levels to higher survival chances with COVID-19. Let's talk about Vitamin D a little bit and how these "papers" and resulting discussion are wrong, but also right.
A loss of life. A loss of trust. A loss of leadership. A loss of standing in the global community. Today we get ranty about what I believe to be the main contributing factor to both our current state of COVID affairs and collective mental wellness: self-centered, entitled behaviors.
I go on and on about how the Wellness Pyramid is awesome for solving all YOUR problems, but it seems I've been not practicing what I preach. As these things go, I've officially gotten my wake up call to act now. I'm not waiting until this COVID thing is over. No excuses.
The Best Podcasts of 2020
With no free time to do much of anything, coordinating guests to the Big Mouth Pharmacist Podcast was near impossible. For most of 2020, I yammered away about COVID, my weight, and various wellness topics.
Here are my favorites for 2020:
Don't Fear The COVID Vaccine Part 1 & Part 2
Dr. Neal sits down with global health specialist Dr. Ray Yip to discuss the vaccine, the credentials of the CDC and the damage caused to it by corruption within the Trump administration.
5 Supplements You Should Stop Taking. Right Now.
Neal and Daena brave a tornado to discuss five supplements that show little to no efficacy, and in some cases, can actually be detrimental to your health.
Neal sits down with geneticist Dr. Kimberly Chapman to get down to the nitty-gritty of MTHFR, Alzheimer's, what genetic tests can actually tell us, and what exactly is going on (and going wrong) with MTHFR.
Dr. Neal and The Scientific Director of the International Probiotic Association, Dr. Jessica ter Haar get into the complexity of purchasing a quality probiotic, what to look for, and what to avoid.
Neal talks about the impact of chronic stress, adrenal fatigue (if it is even real), and sleep supplements – all while debunking the mountain of misconceptions around stress.
Thanks for a Great 2020
I want to say thank you again to all of you loyal subscribers to our newsletter, readers of our blog, and listeners to our podcast.
Week after week, I get a flood of emails from people grateful for what I have to say, people who are happy they finally have the clarity, quality, and results they wanted from their wellness plans, or people who just liked one of my silly jokes or puns and want to tell me.
The words of encouragement mean the world to me. I'm happy to be out here, fighting the fight, calling out the misinformation and BS in the wellness industry.
I'm going to keep going, and I'm happy to have you along on the ride with me.
Thanks for an awesome 2020!
Just trying to keep it real…

Neal Smoller, PharmD
Owner, Pharmacist, Big Mouth