Ever since more data has come to light about the benefits of collagen on joint health, especially in athletes, collagen peptides have replaced my go-to recommendation of Myocep for those looking for an excellent protein source. Protein is one of our Vital 5 supplements, and for people who can have animal products, I believe collagen is a better choice, as we so rarely eat bone broth or organ meats in our modern diets.
The anecdotes around hair, skin, and nail health are pretty significant as well. Just ensuring enough daily protein is consumed is a benefit, but many people report stronger, healthier hair, skin, and nails with regular collagen supplementation.
As I've seen this fad turn into something actually evidence-backed and sustainable, I've looked for ways to ensure we can supply an industry-leading quality product. I've been on the prowl for a good raw material supplier, and finally one fell on my lap!
I'm happy to officially announce our newest vitality approved solution, Woodstock Vitamins Collagen Peptides!
Collagen Peptides Quality
Quality comes first here at Woodstock Vitamins, so I didn't settle on just any collagen raw material suppliers. This is an extremely hot item, so everyone has a collagen product they want to make for you. Most of them are below our Vitality Approved Standards for collagen (or any product!), so we passed on almost everyone.
We created the Vitality Approved Standards, for those reading for the first time, an industry first comprehensive list of traits a product should meet or exceed to objectively be considered best-in-class. These standards are created by us, using what we know about product manufacturing, therapeutics, and the best available evidence. We do this because the supplement regulations are weak and enforcement is infrequent due to a lack of resources.
It wasn't until we were able to source from what I consider to be the highest quality source on the market today that we decided to dip our toe into the water. This is the same exact quality of a couple of industry-leading brands good enough to be stocked in our store previously and recommended by our experts.
Here are things we have considered when we chose our Collagen Peptides product partner:
Farming & ethics: Grass fed, pasture-raised cows, treated humanely, in Brazil – a country that leads in farming standards and treatment of animals.
Hormones: In Brazil, it is illegal to use rBGH (growth hormone). rBGH is typically used to increase milk production in cows. Besides this legal protection, the source of cows is non-dairy, meaning rBGH would not be a factor.
Heavy metals: Cows are eating grass which grows in the dirt (last I checked) where it rains on a planet that has pollution. Heavy metals will make their way into almost all of the products we consume, so we want to ensure the levels are minimal, if not non-detectable.
Solvent residue: We have a limited list of allowed solvents for processing collagen and ensure no harsh industrial solvents – even residue – will be present in the final product.
The big thing: now that this is in our brand, our manufacturer has a legal obligation to be transparent about all steps of the manufacturing process. I have access to (and have copies of) key quality information, including quality tests on each lot. Previously, the situation was not nearly as transparent, though our recently promoted brands did share enough information with us to be confident in their product quality. Now that we have our own Woodstock Vitamins Collagen Peptides, we will have the clearest view of how exceptional our product REALLY is.
Collagen Peptides Cost
One of my favorite things about collagen is that it is an excellent protein source at a very low cost, especially when compared against whey or plant-based proteins.
Myocep, our leading, minimally processed, high-quality whey protein, averages at 8.5 cents per gram – very low for a product that undergoes so many controls for quality. Our previous favorite collagen product was an equal price – 8.5 cents per gram. Our Collagen Peptides are 8 cents per gram. It doesn't seem like much, but over a year that equals out to $30 – or one whole bottle extra for the same spend.
Our Collagen Peptides is identical quality to leading national brands and starts out 5% cheaper!
Collagen Peptides Flavor
Since the source and processing are extremely similar (if not identical) to other brands we've recommended, you can believe the taste is the same. Collagen Peptides are flavorless and mix well with anything cold or blend with anything hot.
Other Benefits Of Our Collagen Peptides
Besides a less expensive, great tasting, high-quality product with a greater level of transparency to us, the quality crazy people, there are a few other benefits to this product.
There are 0 added ingredients. It is literally just grass-fed bovine collagen (Types I & III). No added sugars, no added flavors. Nothing.
It is also SMS verified to have no GMO ingredients.
Like other collagen products, our Collagen Peptides yields 18g of protein per scoop. Collagen has quickly replaced generic protein recommendations I make, especially around the Vital 5 supplements. We don't eat enough organ meats or bone broths anymore, so exposure to collagen in our diet not only ensures an easy way to meet daily protein intake goals (which many of us still don't do!) and ingestion of these unique collagen peptide structures, but also the exposure to the unique amino acid blend that can support so many body systems.
If You Haven't Gotten The Hint, Switch And Save!
We're happy to have found what we consider the current top quality source for this popular collagen peptides blend. We've partnered with one of our contract manufacturers to bring this product to you at a lower cost than what's currently available.
If you're on the fence on whether you should give collagen a shot, I've written numerous articles explaining how I believe they fit into the big picture. I've listed them below.
If you use collagen from brands we've recommended in the past, use up your supply and switch to Woodstock Vitamins Collagen Peptides for the same high quality at a better value – guaranteed!
Check out the product page to see the Supplement Facts Panel and amino acid profile. Otherwise, here's a general summary of how it compares to our past recommendations: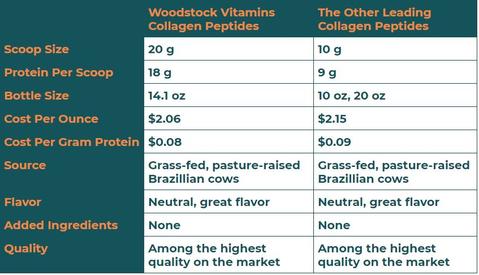 Collagen Resources
Just trying to keep it real…

Neal Smoller, PharmD
Owner, Pharmacist, Big Mouth