Which doses do you have?
We administer Janssen (Johnson & Johnson), Moderna, Pfizer, and Pediatric Pfizer.
How do I get vaccinated with you?
Visit drneal.co/vax/signup to schedule an appointment in store, or to check our "Vaccine Roadshow" schedule.
Who is eligible for what doses?
We are authorized to immunize everyone 5 and older. Here's the most up-to-date vaccine schedule: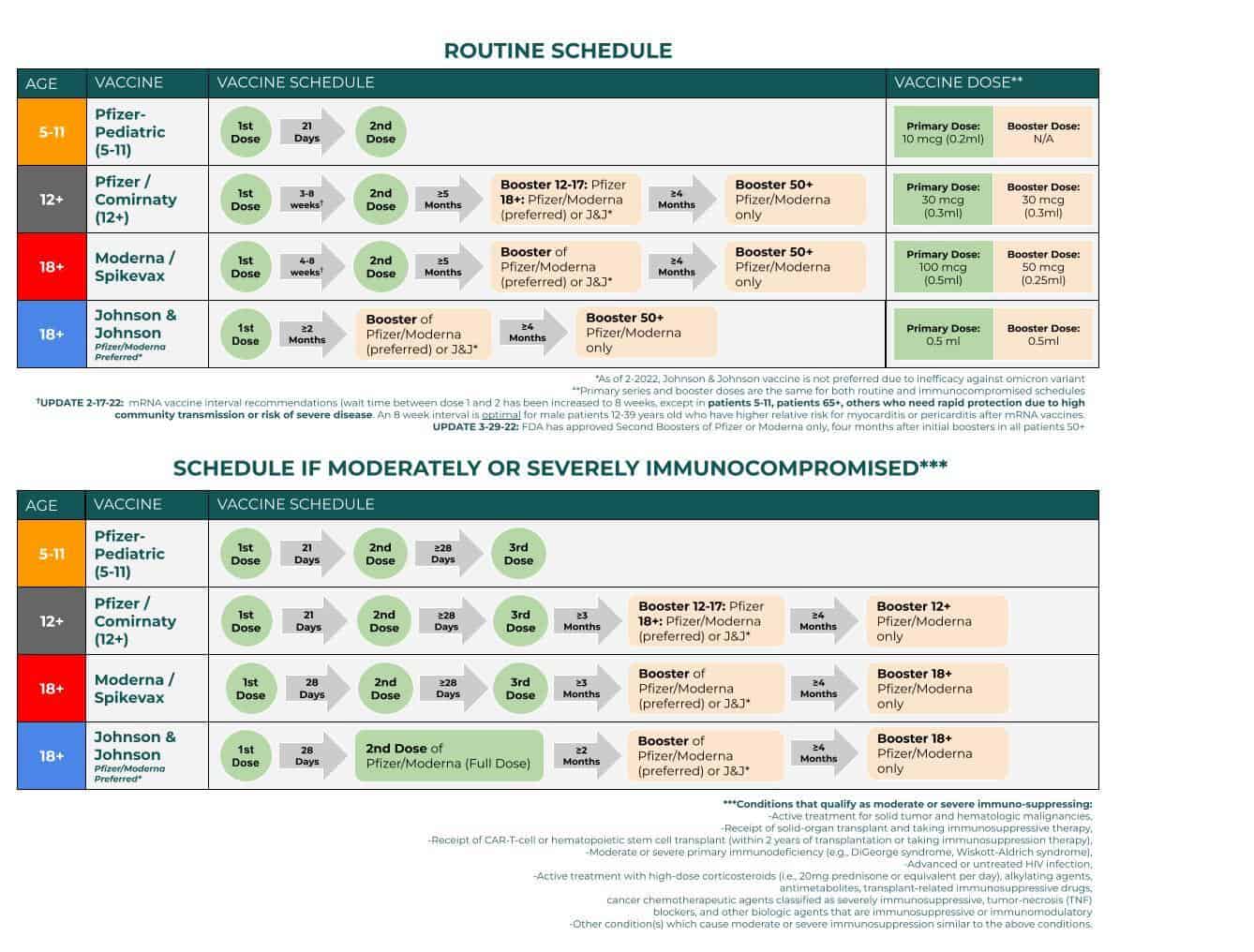 Why do you need my insurance?
As we are a private practice, we are reimbursed by the federal government for our services through private insurance.  If you are insured, please bring your pharmacy benefits card. If you are uninsured, no problem! just let the staff know when you arrive.
What if I am uninsured?
As of 4/5/22, funding for COVID vaccines for uninsured or underinsured patients has been blocked.
We are unsure of how we will proceed with uninsured patients. There will most likely be a vaccination charge.
More details to follow.
Do I need proof of ID?
NYS requires proof of age and the consent of a parent or legal guardian for all patients 16 and 17 years old. 
Here is the verbiage from them on age:
"If an individual is eligible due to their age, they must produce proof of age and proof of residence in New York. To prove New York residence, an individual must show:
• One of the following: State or government-issued ID; Statement from landlord; Current rent receipt or lease; Mortgage records; or
• Two of the following: Statement from another person; Current mail; School records.
For age, such proof may include:
• Driver's license or non-driver ID;
• Birth certificate issued by a state or local government;
• Current U.S passport or valid foreign passport;
• Permanent resident card;
• Certificate of Naturalization or Citizenship;
• Life insurance policy with birthdate; or
• Marriage certificate with birthdate."
Parent or Legal Guardian status will be verified via identification and verbally on site, and said individual will confirm their status by signing the Immunization Screening and Consent form and checking "I am the patient's parent or legal guardian."
What is mix-and-match?
Simply put, the FDA and CDC have authorized patients to request and receive a different manufacturer than their original series for their booster doses.
If you received Moderna, you can get Moderna, Pfizer or JJ
If you received Pfizer, you can get Pfizer, Moderna, or JJ
If you received JJ, you can get JJ, Pfizer, or Moderna
What should you do? Well that's up to you and your doctor.
All vaccines show strong, lasting protection against severe infection especially after a booster dose of the same series.
Some folks are pointing to advantages of adding a JJ to an mRNA series or vice versa. JJ to Moderna seems to be the best strategy.
A recent Lancet article has shown a Moderna booster after a Pfizer series is superior protection.
It's all legal, so we'll give you whichever vaccine you choose. Please make this decision after consulting your clinical team.
What does "immunocompromised" mean?
People who have immune system SUPPRESSION have unique vaccination requirements.
There are a list of conditions that qualify.
Active treatment for solid tumor and hematologic malignancies,

Receipt of solid-organ transplant
and taking immunosuppressive therapy,
Receipt of CAR-T-cell or hematopoietic stem cell transplant
(within 2 years of transplantation or taking immunosuppression therapy),

Moderate or severe primary immunodeficiency (e.g., DiGeorge syndrome, Wiskott-Aldrich syndrome),

Advanced or untreated HIV infection,

Active treatment with high-dose corticosteroids (i.e., 20mg prednisone or equivalent per day), alkylating agents, antimetabolites, transplant-related immunosuppressive drugs,
cancer chemotherapeutic agents classified as severely immunosuppressive, tumor-necrosis (TNF) blockers, and other biologic agents that are immunosuppressive or immunomodulatory
Speak to one of our experts for more information.
What medical conditions are considered "high risk"?
As it pertains to vaccine eligibility, FDA specifies persons with the following conditions would be eligible for special considerations:
Age 50 through 64 years with one or more of the following conditions due to increased risk of moderate or severe illness or death from the virus that causes COVID-19 OR

Cancer (current or in remission, including 9/11-related cancers)

Chronic kidney disease

Pulmonary disease, including but not limited to, COPD (chronic obstructive pulmonary disease), asthma (moderate-to-severe), pulmonary fibrosis, cystic fibrosis, and 9/11 related pulmonary diseases

Intellectual and developmental disabilities including Down syndrome

Heart conditions, including but not limited to heart failure, coronary artery disease, cardiomyopathies, or hypertension (high blood pressure)

Immunocompromised state (weakened immune system) including but not limited to solid organ transplant or from blood or bone marrow transplant, immune deficiencies, HIV,

use of corticosteroids, use of other immune weakening medicines, or other causes

Severe obesity (BMI 40 kg/m2), obesity (body mass index [BMI] of 30 kg/m2 or higher but < 40 kg/m2)

Pregnancy

Sickle cell disease or thalassemia

Type 1 or 2 diabetes mellitus

Cerebrovascular disease (affects blood vessels and blood supply to the brain)

Neurologic conditions including, but not limited, to Alzheimer's disease or dementia

Liver disease; OR

Ages 18 through 49 years with one or more of the underlying medical conditions listed above, based on individual benefits and risk
What occupations are considered "high risk"?
Occupations at increased risk for COVID-19 exposure and transmission include front line essential workers and health care workers as previously detailed by the CDC*
First responders (healthcare workers, firefighters, police, congregate care staff)

Education staff (teachers, support staff, daycare workers)

Food and agriculture workers

Manufacturing workers

Corrections workers

U.S. Postal Service workers

Public transit workers

Grocery store workers
Why would I need a booster if I'm already vaccinated?
A booster will improve your immunity against COVID-19, and it will do so far more than the primary series will on its own.
You may still get sick from COVID because the virus is frequently changing, but boosters are the only way to reduce hospitalizations and deaths associated with COVID-19.
I want a "4th dose"! Can I get one now???
When we say "fourth dose" we really mean "second booster."
Second boosters have NOT been approved by the FDA, CDC, or NYS DOH as of now.  Please pay attention for those events to happen before you ask if the doses are available.